Historically, I haven't been an Apple person. When Apple attempted to persuade me to get a Mac, I got a Dell instead. When iPods proliferated, I owned an iRiver. And when iPhones changed the world, I went with an Android. (Sorry about those green text bubbles.) So it was with some surprise that I recently realized Apple TV+ has become my most-watched streaming service.
Early this year, Apple paid Timothée Chalamet to plug its streaming offerings. In a series of spots, the actor admired Apple's movies and TV shows and pretended to pine for an Apple project of his own. A jealous Jon Hamm was one thing, but it was a bit of a bold premise for Chalamet to feel left out of the Apple party. The Oscar-nominated actor who's worked with Wes Anderson, Christopher Nolan, Greta Gerwig, and Denis Villeneuve and inspired a rabid fandom? He can't concentrate on anything but a burning desire to appear on Apple TV+? It's no knock on Chalamet's acting skills to say that to sell that premise, your content had better be good.
Fortunately for Apple, much of it has been. In 2023, Apple has premiered and pumped out new seasons of critically acclaimed and, in some cases, widely buzzed-about shows (not to mention a movie about Tetris). Shrinking. Schmigadoon! Ted Lasso. The Big Door Prize. Silo. Platonic. Hijack. The Afterparty. Foundation. Several other star-studded projects have largely passed without notice—Dear Edward, Hello Tomorrow!, Extrapolations, Liaison, The Last Thing He Told Me, City on Fire—or have elicited high-profile pans (Chris Evans and Ana de Armas's Ghosted, Tom Holland's The Crowded Room). But there's rarely been a week when an Apple TV+ series wasn't highly recommended on The Ringer's Streaming Guide. The same day that recent hit Hijack concluded, the third and final season of Physical premiered. The release schedule for the rest of the year includes the debuts of originals Strange Planet, Masters of the Air, and Lessons in Chemistry; new seasons of returning series such as Invasion and The Morning Show; and, of course, the award-bait, blockbuster duo of Martin Scorsese's Killers of the Flower Moon and Ridley Scott's Napoleon.
Throw in several other well-received series that haven't been active this year—Severance, For All Mankind, Mythic Quest, Bad Sisters, Dickinson, Black Bird, Acapulco, Pachinko—and Apple TV+ has compiled quite a library of scripted originals less than four years after its November 2019 launch. Awards have followed, too, including several Peabodies and the first Best Picture Oscar for a streaming service. Last month, the service set a personal record by garnering 54 Emmy nominations, which trailed only the much more prolific Netflix and the long-established scripted titan HBO. (Even Chalamet's ad earned an Emmy nom.) Apple TV+, says Parrot Analytics entertainment industry analyst Brandon Katz, is "very much HBO 2.0."
With one pretty important caveat, that is: Far fewer people pay for Apple TV+ than for Max (the recently rebranded streaming service that hosts HBO content) or most other major streamers. Apple's pursuit of quality scripted content—delivered primarily via big-budget shows and films filled with stacked, marquee casts and deluxe visuals—has paid off in prestige, but the dividends in viewership, subscriptions, and revenue are murkier. Apple, the first $3 trillion company, could swallow losses indefinitely. Still, it's unclear how long the tech behemoth will choose to sustain its streaming service as a probable billion-dollar loss leader while the rest of the industry reduces spending. "Eventually, I do think Apple TV+ will want to at least stabilize spending, if not outright turn a profit, but … their commitment to prestige premium content makes that a little bit difficult," Katz says. "Not everyone can be HBO."
By some metrics, at least, Apple out-HBOs HBO. According to a recent study by streaming guide JustWatch, Apple TV+ movies and TV series boast the highest average IMDb user ratings of any U.S.-based streaming service.
Similarly, data provided by streaming guide Reelgood shows that Apple TV+ leads the streaming pack in the percentage of its catalog considered "high quality," which Reelgood classifies as anything with an IMDb rating of 7.5 or higher with at least 300 ratings. That holds true whether we look at movie and TV catalogs combined …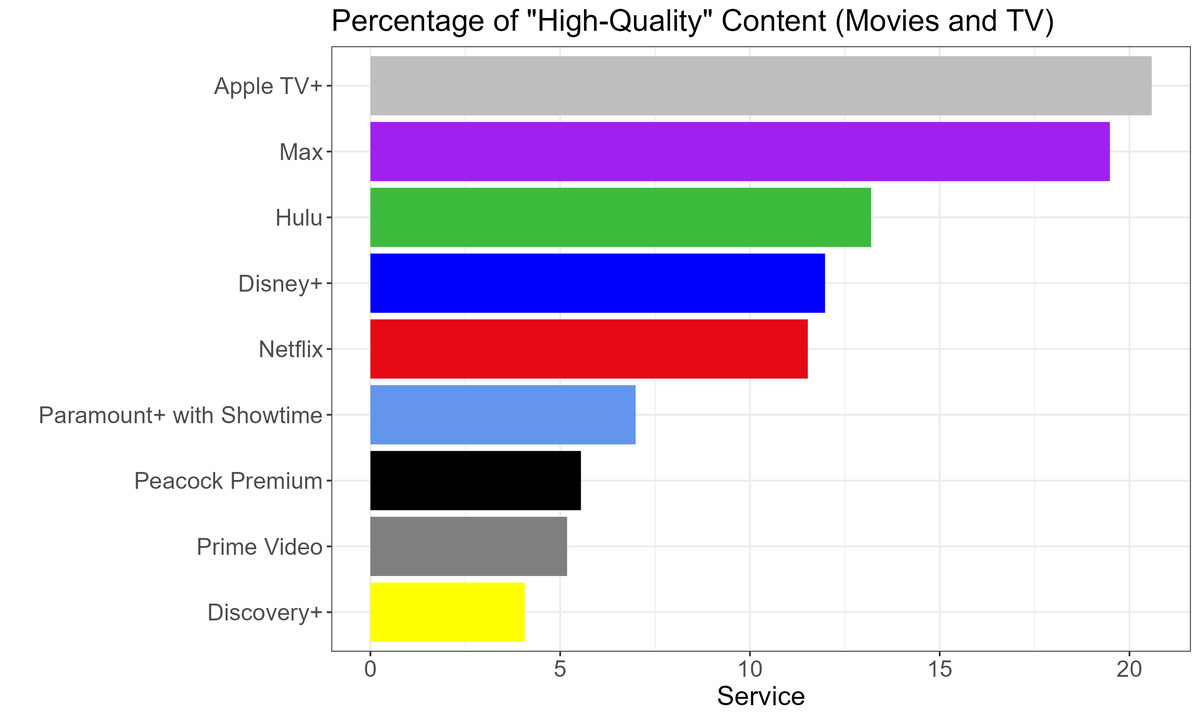 … or just TV.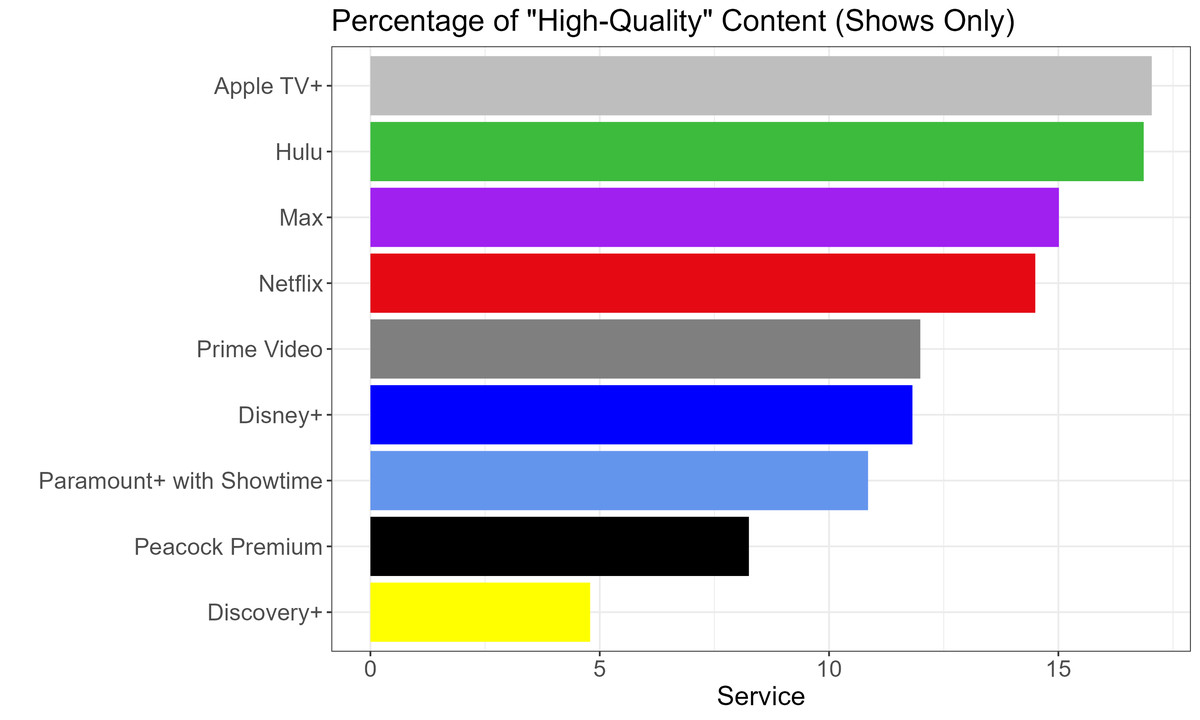 For two reasons, those numbers are somewhat skewed in Apple's favor. First, its catalog is far smaller than those of its competitors, which have substantial studio collections or licensed content. Second, Apple hasn't invested in reality TV, which tends to score lower than scripted series on average. Its selective, curated, in-house approach to assembling a library of scripted originals lends itself to a higher rating baseline—in other words, quality over quantity.
However, Apple's output is notable even in terms of quantity if we compare it to other services over identical time frames. The chart below shows the number of scripted, original TV series with an IMDb rating of eight or higher released by each streaming service since the launch of Apple TV+.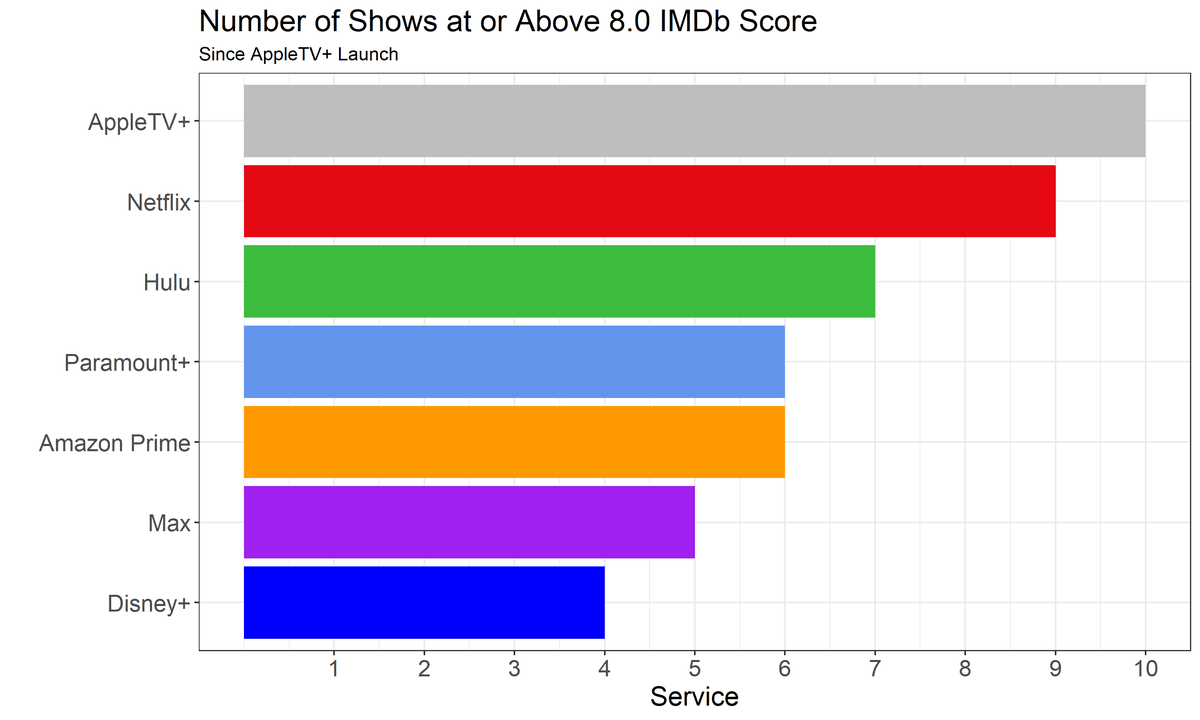 Apple holds a narrow lead over Netflix in that category. What that graph doesn't show, though, is that Netflix has released many more shows in total, making Apple's tally more impressive by comparison. This chart shows the number of highly rated scripted series on the right and the total number of scripted series on the left.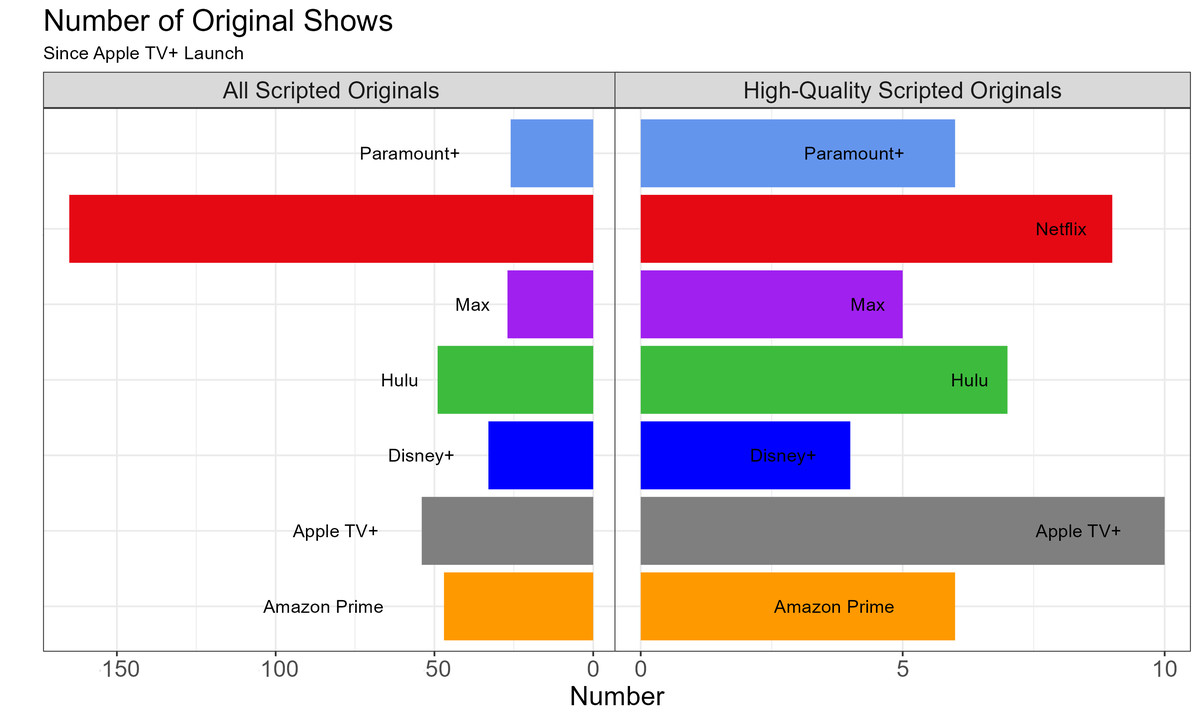 Here, it's clear that Apple is punching above its weight on a rate basis. Its hit rate, or batting average, when it comes to highly rated series is far higher than Netflix's, and it's higher than or comparable to those of other services with fewer scripted originals than Apple. Apple also fares well if we look at the number of scripted shows for each streaming service in the current top 100 based on IMDb's "popularity" score: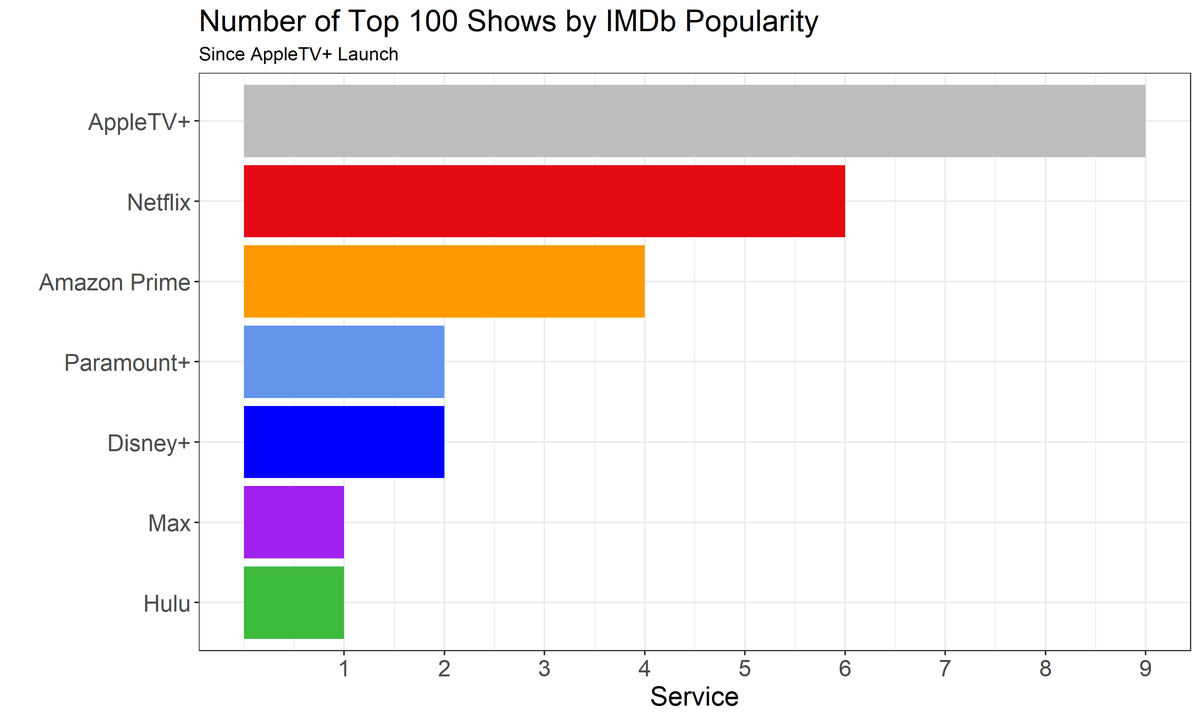 The "Entertainment Strategy Guy," a former streaming executive who analyzes the industry pseudonymously at Substack and The Ankler, points out that genre shows' IMDb ratings tend to be a bit inflated relative to their viewership, and Apple has invested heavily in science fiction series such as Severance, Silo, Foundation, For All Mankind, Invasion, and See. Genre shows, Katz says, "tend to have the highest ceiling and can really break out as true anchor series that basically drive acquisition and sign-ups," so Apple may have seen sci-fi as a means of establishing itself quickly in a crowded streaming market. Entertainment Strategy Guy (which I'll shorten to "ESG" from now on) notes that sci-fi "also tends to lend itself to looking nice and being expensive," so "when you get unleashed with a budget that has no restraints, those shows just become possible in a way that on CBS, they're just not." For Apple, sci-fi is something of a flex.
Are those high ratings translating to subscriptions? It's very tough to say. Even by streaming service standards, Apple is opaque concerning audience data. Some streamers release global and/or domestic subscriber counts, but Apple (like Amazon) publicizes neither. And because Apple TV+ lacks an extensive library, it's also the only major streamer not included in Nielsen's monthly report on TV viewing, the Gauge. An Apple spokesperson declined an interview request for this story.
Without hard data, we can get a sense of where Apple TV+ stands relative to other streaming services through some estimates and indirect measurements. JustWatch, for instance, ranked Apple TV+ last among major streaming services in the second quarter in "measured interest"—essentially, how often JustWatch users searched for its shows.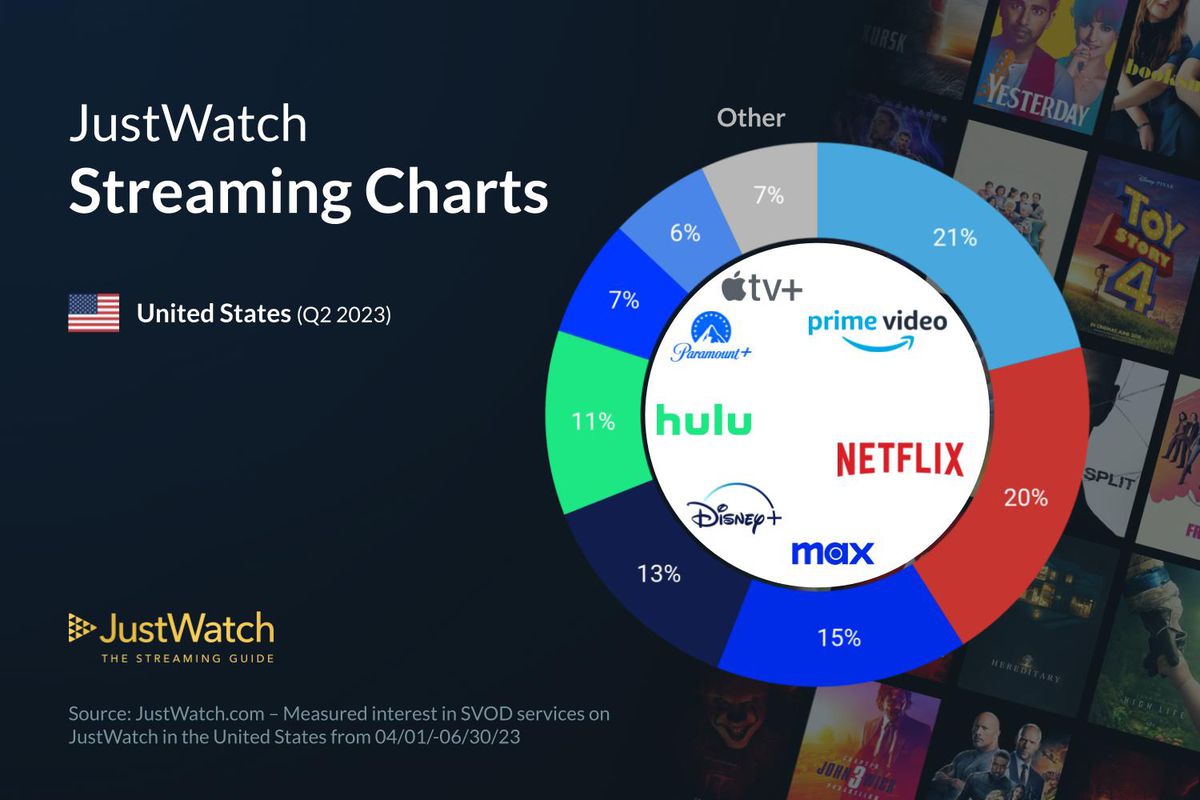 Reelgood gives Apple an even slimmer slice of the pie in its "viewership share" metric for the first half of the year, which is based on U.S. playbacks initiated through Reelgood apps.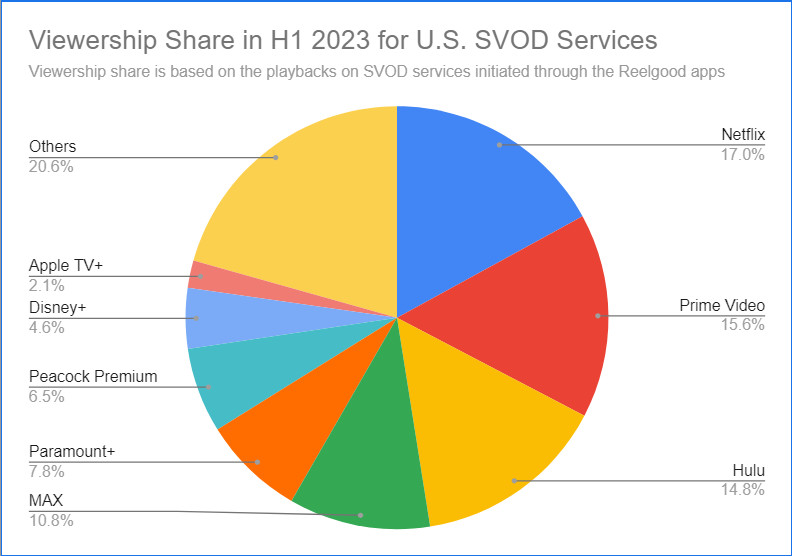 Both sources say Apple grew over the past quarter and year, but not enough to climb out of last place. However, neither of those results is restricted to originals only—and because Apple is all originals, it's at a disadvantage when it's stacked up against services with many more shows. According to Reelgood, the Apple TV+ catalog expanded by 51 percent from June 2022 to June 2023, but only to a total of about 200 movies and shows, compared to the thousands of old titles available via other streamers.
Katz offers a rosier report on Apple via Parrot's holistic "demand" metric, which can isolate originals and, consequently, paints a picture of the service as "very much on a really, really cool roll." According to Katz, Apple hit a record high in global demand share for originals in the second quarter, reaching fourth place among streamers behind Netflix, Prime Video, and Disney+.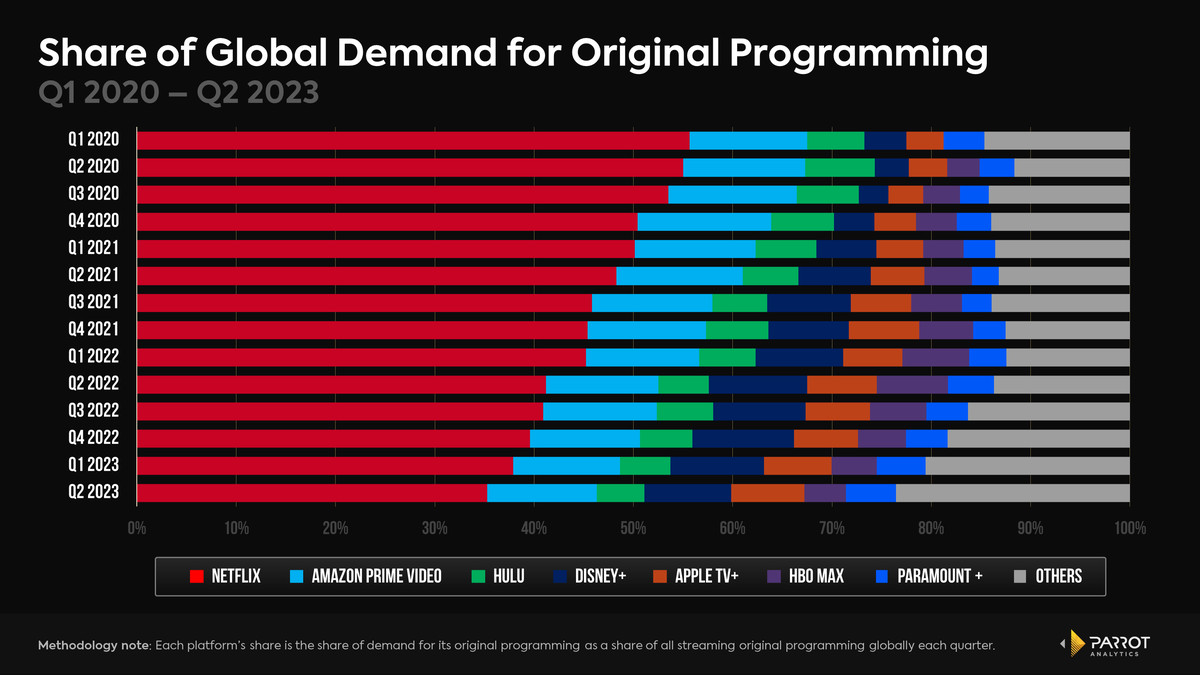 Apple also hit a record high in the U.S., where it leapfrogged Disney+ to take third overall, "within striking distance" of overtaking the second-place Prime Video. In 2022, it ranked fifth, directly behind Disney+ and Hulu. "That is a significant move up the board," Katz says, adding, "They're definitely on a hot streak."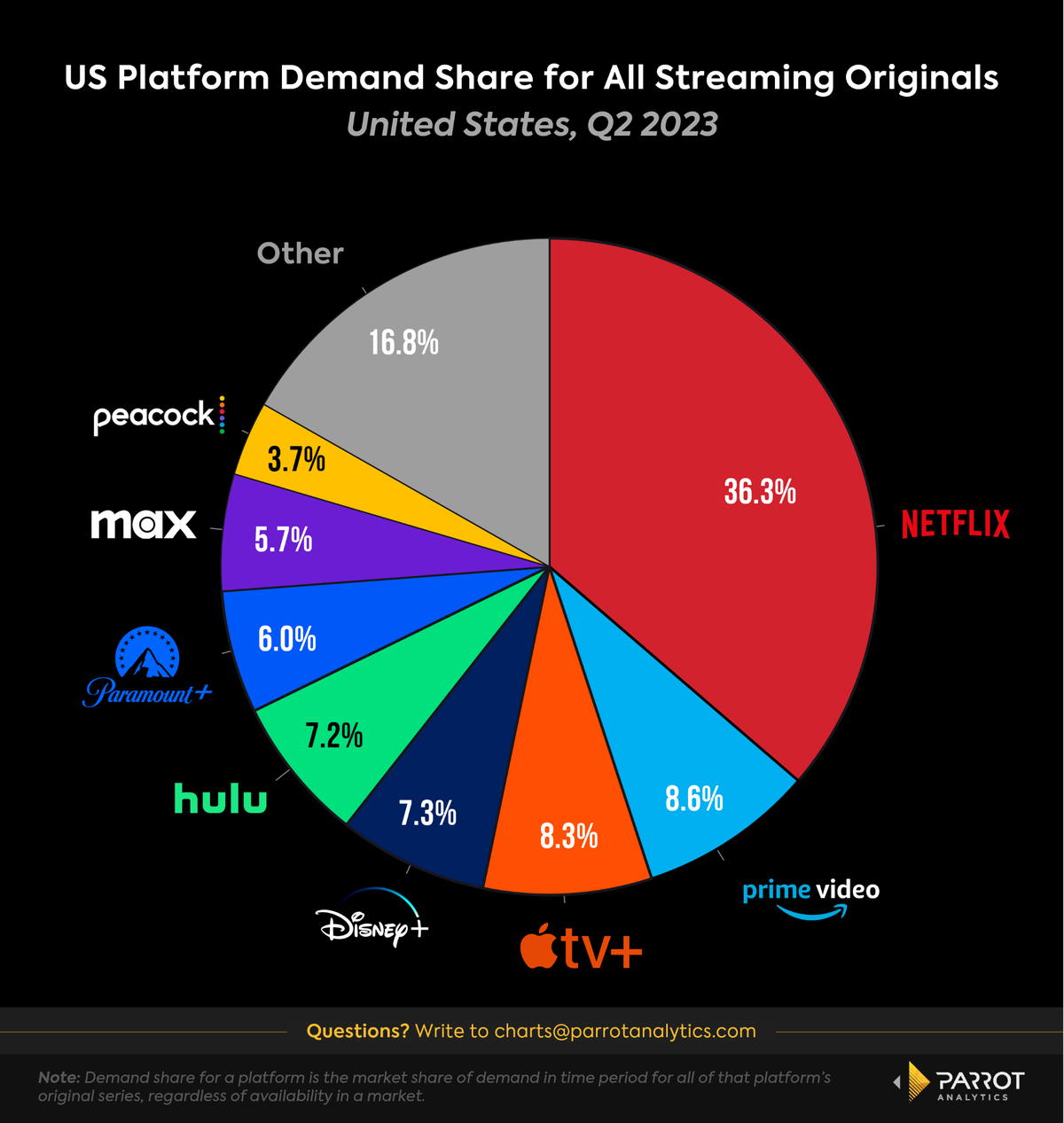 Much of that heat in the second quarter was generated by the final season of Ted Lasso, with a strong assist from Silo. Lasso, per Parrot, was the no. 1 streaming original worldwide in Q2, displacing perennial powerhouses The Mandalorian and Stranger Things. Lasso's ascendance marked the first time since the first quarter of 2017 (Amazon's The Grand Tour) that a streaming original from a service other than Netflix or Disney+ took the top spot worldwide in Parrot's demand measurement for a full quarter. That momentum has carried into Q3, Katz says, thanks to Hijack, which has become a "really solid performer."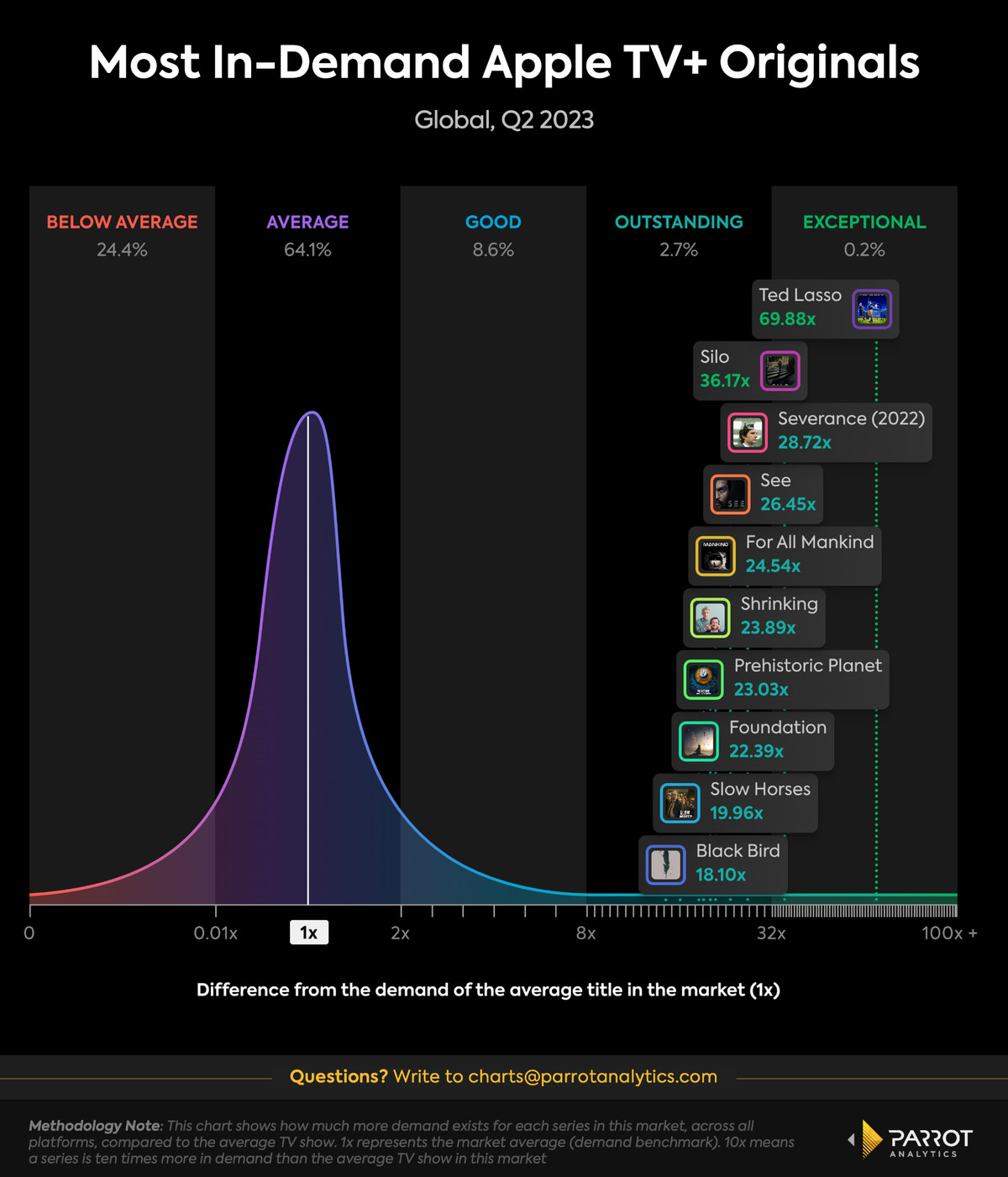 Lasso, however, has thus far been a singular sensation—the only Apple TV+ series to crack the top 10 in Nielsen's streaming ratings. (Even when Lasso's Nielsen rating peaked with its finale, its audience was still eclipsed by Netflix's FUBAR and S.W.A.T., which offers some sense of the respective scales of those streamers.) Most of Apple's other successes are much more modest when measured against the streaming landscape. "Are these shows getting buzz and [finding] customers who like them? Yes," ESG says. "But are those customers a big enough critical mass? We haven't seen it in the data." Any other streaming service likely would have announced multiple Lasso spinoffs by now—see the Paramount+ and Showtime approaches to franchising Yellowstone and Billions, for instance—but Apple refreshingly hasn't hinted at one, which may stunt its growth as Lasso fever fades.
Lasso is something of an exception in Apple's catalog in another respect: According to Parrot, its audience breaks down nearly evenly along male and female lines. "Apple TV+ has definitely built up a sci-fi- and thriller-heavy lineup, and that has resulted in one of the more male-leaning audiences in the streaming world," Katz says. Although the audiences for the service's live sports additions—Friday Night Baseball and Major League Soccer—also skew male, shows such as Bad Sisters, Schmigadoon!, and Platonic may reflect an effort to broaden the service's demographics. "I think longer term, you'll definitely see a concentrated effort to continue building out a diverse slate … to try and cement themselves as a four-quadrant service," Katz says.
Unsurprisingly, per Parrot, demand for original streaming series is a strong leading indicator of subscriber growth, so Apple's upticks in that area bode well. However, Katz says, "When you're talking about mass appeal, which leads to, ultimately, subscription growth and revenue, you're really talking more about procedurals, sitcoms, things that aren't necessarily what Apple is making its core foundation." There is, he continues, "a popular argument that Apple needs to buy a studio to build up its library, … but massive external acquisitions have never really been Apple's calling card as a company. … They seem more intent on building a carefully curated collection of quality in-house."
On the, um, plus side, Apple's offerings are exclusive to its service. And even after a price hike late last year, its subscription price is still the lowest among major streaming services, as Axios documented last month.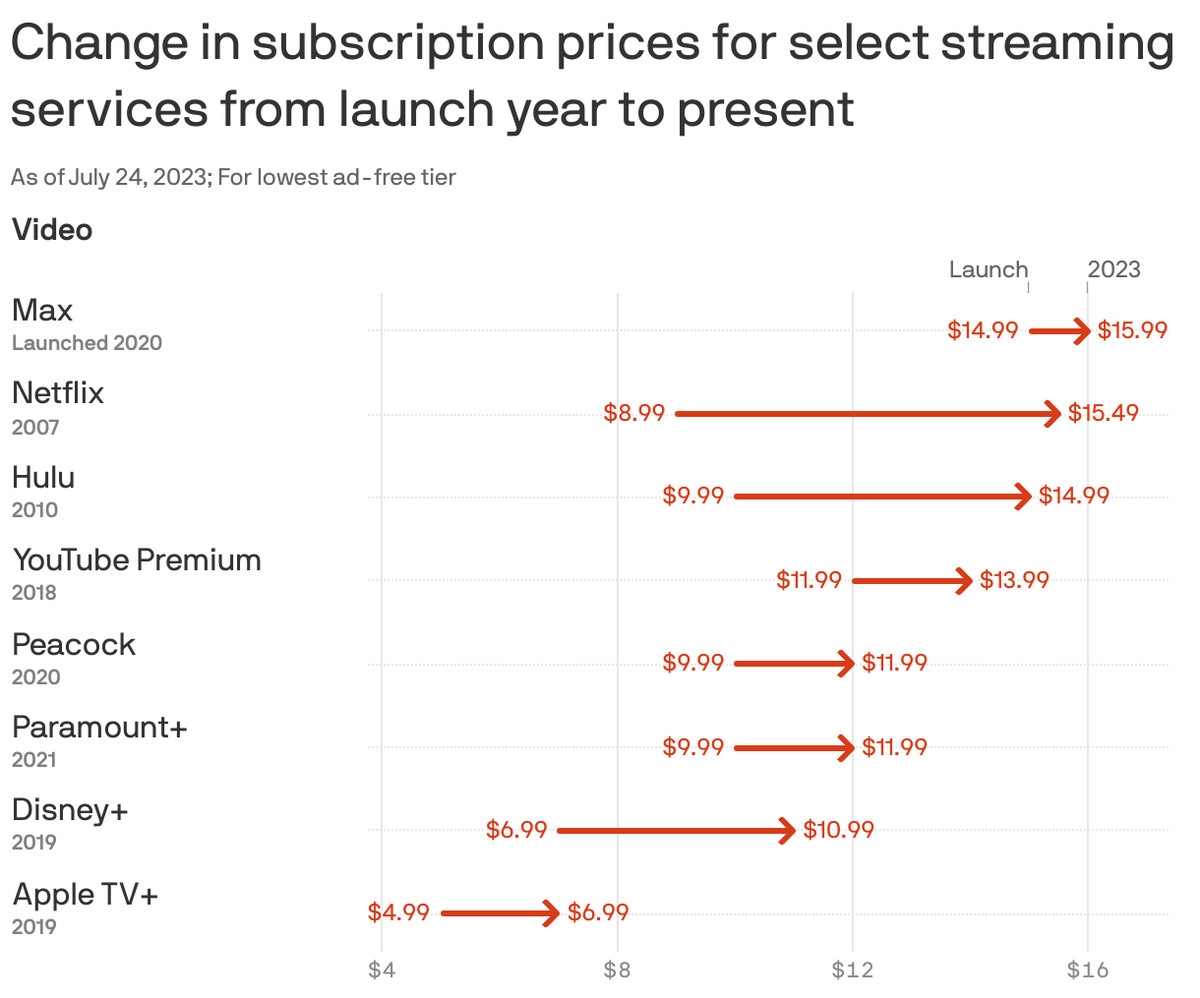 For a reasonably low price, Apple TV+ subscribers get access to some excellent series that aren't available anywhere else. They just don't get an inexhaustible library or a wave of arrivals each month. If you're in Apple's scripted sweet spot [raises hand], you may see it as the most discriminating service; if you aren't, you may find its offerings insufficient. "Is that number of shows worth it to keep people subscribing? It's tough," says ESG, who notes that the service's subscriber churn rate is higher than those of its leading rivals. Apple's reliance on a comparatively paltry lineup of scripted series might also set up the service to be hit harder by production delays in the wake of the WGA and SAG-AFTRA strikes—a vulnerability that the WGA has highlighted publicly.
Based on the best figures available, Apple's subscriber base is minute compared to streaming's heavy hitters. ESG estimates Apple's domestic subscriber count in Q1 at 14.8 million, which puts it eighth among streaming services—far behind titans Netflix (67.2 million), Hulu (48 million), Max (45.9 million), Prime Video (45.4 million), and Disney+ (41.7 million) but also looking up at Paramount+ and Peacock, which were in the range of 20 million to 30 million. Only AMC+ (10.1 million) and Discovery+ (9.4 million) ranked lower among services that cleared the 5 million minimum.
Worldwide figures from Barclays analyst Tim Long make Apple TV+ look like an even more diminutive David compared to the global Goliaths. In May, Long put the overall Apple TV+ user base at 29 million in 2022, which (as Barron's wrote) "would make Apple one of the smaller streaming services" in a field dominated by Netflix (274 million), Disney+ (202 million), Prime Video (184 million), and Warner Bros. Discovery, including Max (123 million). Long's analysis suggested that despite "impressive growth" in revenue and subscribers, Apple would "lose billions of dollars on its streaming TV services for years to come, making a material dent in the company's earnings performance." Even though three free months of Apple TV+ are included with the purchase of some Apple devices, the service's adoption among iPhone users hasn't exceeded "a low-single-digit level."
Apple's Q3 earnings, announced on Thursday, were down year over year but beat Wall Street expectations, leaving Apple's share price up more than 50 percent in 2023. Despite the stock's strong performance this year, Long wrote in May that Apple "could begin to see some investor pressure to improve the financial performance of TV+, and to slow spending on content." The service's revenue, he estimated, was $1.5 billion last year—a mere 2 percent of the massive total generated by all of Apple's services. "Apple has always said they're pleased with their subscriber growth across the services," ESG says. "The problem is we just have no idea how many of those are actually for TV and how much TV's actually driving the people to bundle in with those other services, especially … compared to the cost."
For a company as enormous as Apple, losses incurred on scripted spending—however exorbitant by some streamers' standards—seem like small beans. The million-dollar question, ESG says—though where Apple is concerned, it might be more like a billion- or trillion-dollar question—is: "Could Apple get bored of this or decide, 'Hey, we're spending a ton of money, but could we spend this and get a bigger return elsewhere?' And no one, I think, can really figure out the answer to that."
As other streamers try to cut costs, ESG says, we've seen more signs that Apple is "starting to discover fiscal discipline." Apple hasn't yet followed the lead of Warner Bros. and Disney in memory-holing some series for tax write-off reasons, partly because they have far fewer titles and partly, ESG says, because spending on streaming content is "so small compared to Apple's total tax liabilities, there's basically no reason for them to cut." But Apple has restricted its free trials and explored an ad-supported tier, which it has resisted. It's also started to cancel series after one season, in Netflix-ian fashion—High Desert, Suspicion, City on Fire—and it recently scrapped Sam Esmail's Metropolis, the sort of effects-heavy sci-fi series that has been the service's signature.
ESG says, "Even if they don't say, 'Hey, we're done with the TV business in general,' could we see a world where they're like, 'Yeah, we're going to make half this many shows to try and get the same bang for the buck and/or lower budgets to be more in line with what we're actually getting on a return'? I think that could be an absolute possibility." Maybe that means Apple would balk at a budget like Pachinko's, which was reportedly comparable to The Crown's and scared off other streamers, or a cast like Extrapolations' (Edward Norton, Kit Harington, Meryl Streep, Daveed Diggs, Diane Lane, Sienna Miller). In the realm of IMDb ratings, ESG says, "Basically anything under 10,000 means no one watched it, is my rule of thumb." Pachinko is right at 10,000 (though its audience may lean international); Extrapolations, which wasn't well-reviewed, sits under 6,000.
If Apple pulls back on its HBO ambitions, it "would actually be bad news" for content creators, ESG says, "because then you have a person who's spending just tons of money, and they're bailing out of the market." It would also be bad news for many television viewers, who'd rather have Apple make great TV than make even more money. Finally, it would be bad news for Timothée Chalamet, who might never get to star in an Apple prestige series—or even another Emmy-nominated marketing campaign.
Share This Article