Valentine's Day is just around the corner and while many are showing off their romantic side, Rico Nasty highlights platonic and self-love with her latest merch drop: The Cult Of C*nts collection.
So what exactly is the Cult Of C*nts and — more importantly — how do you join? Uproxx's Cherise Johnson recently linked up with the Queen Of C*nt herself to learn what rules you have to follow in order to be in the Cult. First off, it's never okay to chat up your best friend's ex — that should be obvious but still needs to be said. "I feel like that's a law but a lot of people don't follow the law," she said. "Let's just put that one there for the girls in the back." The second rule is we wear pink on Sundays (not Wednesdays like Mean Girls prophesied). Why? "Because clearly, God is a woman," Nasty said. "She made all things beautiful and that's how you pay homage."
One of the rules, of course, is to wear Rico Nasty merch. And with her latest line, it's hard not to. Nasty dropped the merch in collaboration with Warner Music Artist & Fan Experiences (WMX), Warner Music Group's in-house artist creative agency. It includes a yellow t-shirt, a pack of stickers, and a multi-colored bandana.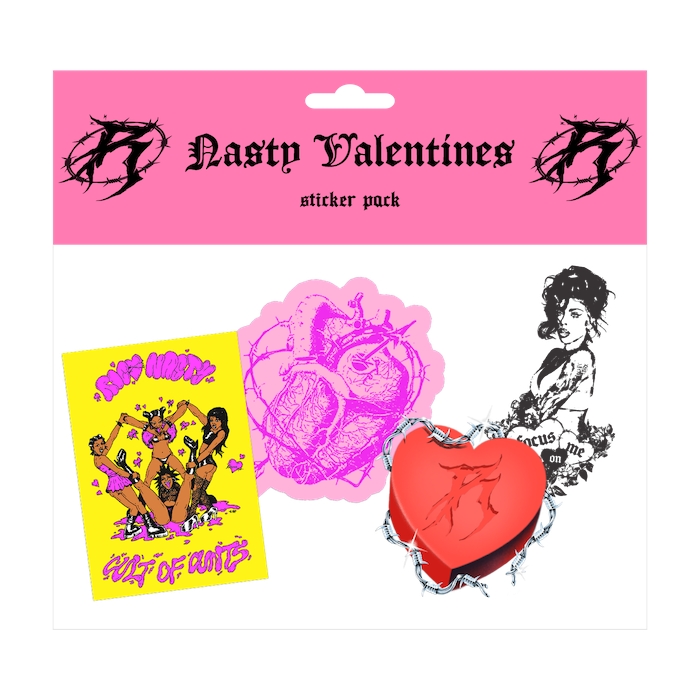 The artist behind the merch collection, the talented Kristofferson San Pablo, used Nasty's vibrant personality as the inspiration behind the designs, while also adding a Valentine's Day spin. "One thing I love about Rico is how she isn't shy about her femininity, sexuality, and the power it holds," San Pablo told Uproxx. "I also love that she can be funny and goofy, which I think the artwork shows." He added: "I knew after creating the design that it made so much sense for Rico. It captures her style, sexuality, humor, and overall fun vibe."
Watch Nasty list off her Cult Of C*nt commandments above, and check out more of her merch collection here.
Rico Nasty is a Warner Music artist. Uproxx is an independent subsidiary of Warner Music Group.
This content was made in partnership with WMX. Uproxx is a part of WMX.
Share This Article