If there's one quality electronic music producers need to succeed, it's resilience, an attribute Spencer Brown has in spades.
Brown, one of EDM.com's best music producers of 2021, has announced a brand new album, Equanimity. If the strongest swords are forged in the hottest fires, consider the album Excalibur.
Brown says Equanimity is the outgrowth of a profoundly troubling period of his life. When the pandemic hit, his income was throttled after he canceled the majority of his "Stream of Consciousness" tour. Then he found himself picking up the pieces of his first breakup and the death of his grandmother, not to mention navigating the nerve-wracking complexities of coming out as gay at the time.
"When I wasn't thinking about these things, life looked even worse through my phone," Brown said. "Every day I saw a rapid-fire stream of contradictions: sugar-coated highlight reels balanced by extremism and negativity from the news, designed to game our emotions for attention. After enough nights driven by pain and uncertainty, I realized that all I can control is how I let external stimuli affect my being."
The longtime Anjunabeats favorite says a friend introduced him to the concept of equanimity, a psychological state of calmness characterized by undisturbed stoicism. Ultimately he was able to channel it into his music and produce Equanimity, a deeply reflective display of sangfroid.
"At first, I tried to eliminate the things causing my day to get worse; then I realized I had to be okay with them," Brown continued. "I had to accept difficulties and let them pass through me…. But like a muscle, it takes time to engrain deep strength in the core. In reality, peace exists around us if we can stay unaffected by the noise. Written between 2019 and 2023, Equanimity describes how I learned to be okay when external stimuli are out of my control. All we can do is work on how we react to the world around us."
Equanimity is scheduled to release on September 29th via Brown's own label, diviine. He's also poised to take the album on a live tour with special, bespoke production developed by "an army of brilliant artists."
Check out Brown's tour dates below and purchase tickets here.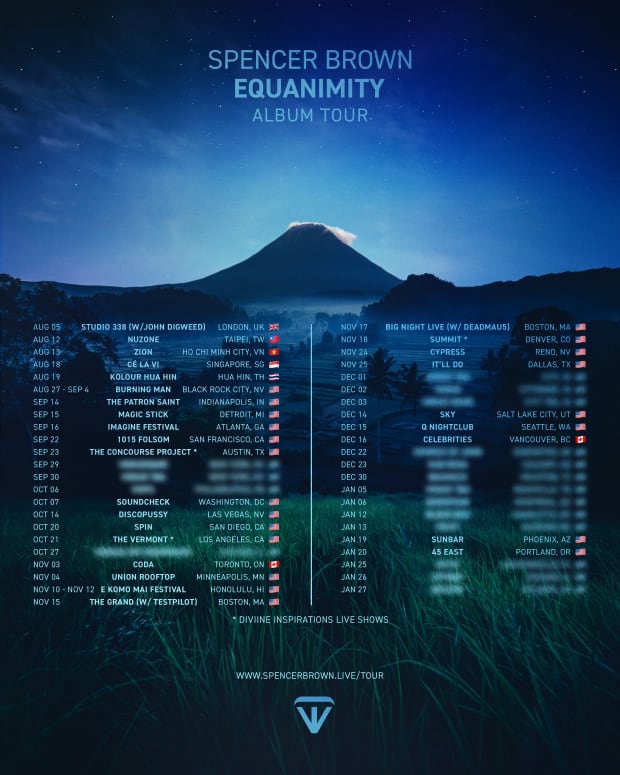 Follow Spencer Brown:
Facebook: facebook.com/spencerbrownofficial
Instagram: instagram.com/spencerbrownofficial
Twitter: twitter.com/spencer_brown
Spotify: spoti.fi/3uTuV7t
Share This Article