A BIG-BUSTED influencer has shared her experience with Triangl's XL bikini tops and warned they are not safe for family events.
The TikTok star tried on several designs of tops from popular brand Triangl in XL to help her fans out.
"We are reviewing triangle bikinis for my bigger-busted ladies," Monika Mancini (@monikkamancini) said to kick off the video.
"But I'll be honest, if you're looking for a lot of coverage, then Triangl is not for you."
She first showed an XL top in a sparkly sea green to demonstrate what she meant.
"This is their biggest size, XL, and as you can see, you do get underboob, sideboob, and a lot of cleavage," she said as she modeled the swimwear.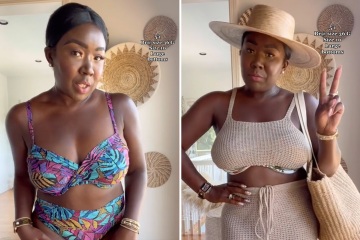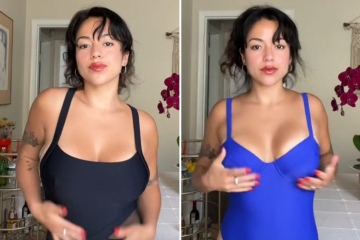 The XL bikini is advertised on Triangl's website as fitting people with busts between 96-99 centimeters and underbusts between 87-90 centimeters.
"I personally would wear the bikinis if I was going out with friends, definitely not like a family event," she added with a laugh.
Several people commented on the post with their opinions on the swimwear or praise for Mancini.
"This is ridiculous @Triangl," one user commented. "it's so sad cause like it's so cute yet they're not size inclusive not even cute cleavage it's just bad."
While another user suggested that she "Pls do bikinis with wire."
But Mancini, a lifestyle and fashion influencer with over a million followers, said she still really likes the swimwear brand.
"I feel like Triangl has so many cute designs and patterns," she said.
"If you like having a little sideboob and underboob and all that, then I would suggest trying out Triangl, but if not – no."
And "if you're watching this, you should make a big-bust collection because it would kill," she said as a final note to Triangl.
Other influencers with different bust sizes have tested out Triangl swimwear with better luck.
Share This Article