TOM Brady's biggest fan Veronika Rajek has stunned her fans in her latest social media post amid constant comparisons to her peers.
The Slovakian beauty, 26, added new pictures to her Instagram to the delight of her followers.
Veronika went makeup free and wore just a tiny yellow bikini in her newest photos.
And the model had a message about comparisons for her fans.
She wrote: "Everyone is always compared to others, but no one knows real you, just you do.
"Void the noise and trust yourself."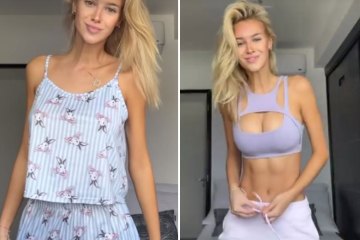 Veronika recently drew comparisons with Tom Brady's ex-wife Gisele Bundchen.
The 26-year-old turned heads when she watched Brady play last year while wearing his jersey.
And she carried on supporting the Tampa Bay Buccaneers all through the playoffs.
Her post when the Bucs were eliminated from the playoffs by the Dallas Cowboys was eerily similar to one from Gisele years ago.
But, in an exclusive interview with The U.S. Sun, Veronika addressed those comparisons.
She said: "People compare us but I am not Gisele. I'm Veronika – I'm totally different.
"She is amazing, she is one of a kind. I love every post that she shares.
"It's not good people are comparing me and Gisele – when they found her in Brazil in 1994 I wasn't even born.
"She looks beautiful and amazing, her body after two kids is perfect."
Veronika added: "When we are comparing the young models, you can compare me with the girls like Bella Hadid, Hailey Bieber, or Kendall Jenner.
"They are models but I am a model too, just I never had opportunities because I wasn't born in the States."
Share This Article